OLED DISPLAY | MULTI-APPLICATION PLATFORM | SAFETY
Injection Innovation
DermaQueen
Injection Innovation -
Redefining Aesthetic & Anti-Aging Injection
DermaQueen isn't just the best injection medical equipment of its kind. It's a whole new kind of equipment for medical professionals

The negative pressure of DQ has been completely reengineered for the injection with the multi-needle.

The negative pressure of DermaQueen holds the skin being lifted during the injection. Multi-needle consisting of several needles is easily injected into the skin. This procedure occurs simultaneously,
and injection can be made surprisingly easily and fast.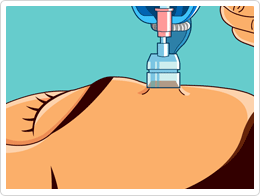 Thoughts From Our inventor & CEO
Hello, I'm Hong Seok Cho, the CEO of DermaQueen.

I'm fascinated by how filler injections change the mind of people - specifically when they begin to have the vitality of their younger days. The injection of aesthetic medicines such as filler & botulinum toxin started before 20 years ago.

Here's the problem: doctors have continued to rely on their sense of hands when they inject aesthetic medicines. It has worked nicely sometimes. But it is not perfect.

More injections equal more fatigue of hands, irregular results, bleeding, pain, lump and unwanted medicine loss. Everything which can happen during injection of aesthetic medicine causes more stress on doctors.

Luckily there's a better way: DermaQueen

We invent DermaQueen because we were sharing the same ideas with doctors. And we used to be the No.1 distributor of Juvederm in Asia as an exclusive distributor in Korea. We are experts in aesthetic medicines. DermaQueen is a unique collection of injector using negative pressure & multi needles for working together, all baked into a single organized device. No more fatigue of hands, far fewer loss, and a much better result.

Today, over 1,000 clinics run better with DermaQueen. It's more comfortable & organized way to inject. We've been honing, refining, and improving DermaQueen nearly every day for 7 years.

Please give DermaQueen a try. I'm 100% certain DermaQueen can improve how you inject aesthetic medicines.

Wishing you all the best,

Hong Seok Cho, CEO, DermaQueen
The more accurate & effective




Injection with DermaQueen
Holds the skin being lifted during injection to penetrate the skin with multi-needle & to avoid injecting into the danger area
Medicines distributed accurately & uniformly into the target layer with the desired amount
Our special patented plunger holder is designed to decrease medicine loss by pulling it back after injection
* This equipment must be operated by medical professionals only
99540_51296_1710_edited
certification4
Sign up for updates on all our future events